The Carnival dog show is taking place on Carnival day, Saturday 11th June - it's all about having fun and celebrating all things canine. * NEW FOR 2022 * Yvonne is bringing her dog grooming business, Groomology, to the Carnival. In addition to offering advice on maintaining a healthy coat, there will be a live demonstration.
The show starts at 2pm, with grooming demonstrations from 1pm.
Classes:
Cutest Puppy (under 12 months old on 11th June)
Gorgeous Golden Oldie (7 or older on 11th June)
Best Rescue Dog
Longest lay down & stay
Loveliest Lady
Fabulous Fella
Musical sit - a bit like musical bumps for dogs!
Judges' Champion – star dog of the day
Yvonne Alder, Dog Trainer & Behaviourist - 07760 282742
I cover all aspects of dog training including:
Introducing your new dog to children/pets
Personal dog training sessions to suit you & your dog
Puppy house/ toilet training
Jumping up
Pulling on the lead
Barking & aggression
Mouthing & biting
Separation anxiety issues
Fun, safe recall
Good social manners indoors and out
Pack walks (existing clients only)
Free telephone advice
I only use calm, assertive energy to train dogs – no gadgets or gimmicks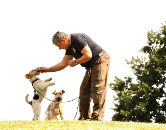 Teaching your dog good manners or basic tricks can be rewarding for you and your dog.
Dogs love to please their owners. Dogs that have spent a long time in shelter need rehabilitating into family life. This can sometimes be a slow process but I work towards the dog having its forever home with you.
I can offer advice on the choice of a puppy or dog, to suit your lifestyle & home environment
As a professional dog trainer and behaviourist I don't just train your dog. I look at what is going on within, noting the dog's body language and behaviours to understand temperament, levels of nervousness, dominance etc. Together, these enable me to determine the actions needed to correct your dog's behaviour.
I am dedicated to helping dogs become happy & calm. We can work together to both achieve & maintain this
Dogs provide us with both companionship and hours of joy. Whether you have owned your dog from a puppy or adopted a rescued dog I am happy to work with you and your dog to ensure it has the best life ever.

I have full liability insurance covering all aspects of the Dogcology business.