Recognising that all dogs are different I offer a range of service options, as outlined below.
Please get in touch so we can discuss the best way forward for you and your canine friend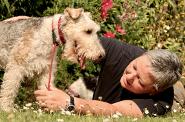 Initial one-to-one consultation
A maximum of two hours is usually enough for me to assess you & your dog and to go through everything you will need to know to improve your dog's behaviour. This usually takes around two hours with some flexibility depending on how the session goes. Meeting at the dog's home, we'll start with a full assessment of your dog following which we will start the training required to correct your dogs behaviour.
After the consultation you can opt for a full written report (an additional cost applies) containing my observations and recommendations plus a plan for you to continue the training. Unlimited phone or email support (within business hours) is included, so you are not left alone.
Follow-up visit
Training takes time and even after a full two hour consultation plus email / telephone advice you may require a follow-up visit to go through the training program again or need further issues addressed. This session is usually 1 hour 30 minutes.
Quick consultation
You may just require basic advice and therefore only need an hour to go through the basic training / issues. This session is 1 hour only.
Continued support program
If you have a very busy lifestyle or don't want to be left to your own devices to train your dog you might consider my continued support program. Programs can be designed to suit you and your dog, and for as many days or weeks required. Faster results have been gained from this program. An initial two hour consultation is followed by one hour sessions to help kick start the training program. Sessions can be booked daily or weekly however a minimum of six sessions should be booked for this program.
Pack walks
These fortnightly walks, available to my clients only, are fun and social for both you and your dog plus in a controlled environment - ideal if your dog is:
'dog reactive', i.e. doesn't like other dogs
protective whilst on walks
a puppy in need of socialising &/or walking off the lead
The other dogs in the pack are chosen by me knowing they will help teach your dog manners and include it in the pack. These walks will benefit you too so you learn to relax when walking, and so not to give negative energy to your dog.
Helping you pick your new best friend
Thinking about getting a dog either a puppy, rescue or fostering? I can help you choose the right dog for you by looking at your lifestyle, circumstances and energy levels to ensure you get the perfect balance between you and your four-legged friend.
New arrivals
Planning to grow your family? Introducing a new arrival, be they human or canine/feline, can be tricky as it alters the dynamics your current canine(s) enjoy. Talk with me to arrange a consultation before AND after the new arrival to help things go smoothly. This is also an IDEAL BABY SHOWER gift for expectant parents who already have fur babies vouchers available.
Please get in touch on 07760 282742 (phone or text) or use the Contact page to email me so we can agree the best way forward for you and your dog. We can agreed the best way forward and associated costs.